Learn Why So Many Web Publishers are Using Traffic Travis for Keyword Research – Read the Traffic Travis Review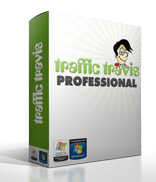 Hi, I know you've been searching for some good information on the new Search Engine Optimization wonder tool – Traffic Travis. And, you may have had a tough time finding material that gives you the real story. That's why I put together the Traffic Travis review to help you though the process.
This article will take you through all the benefits and features of Traffic Travis, such as whether to buy the program or just use the newest version available.
I will go through just a couple of the many tools used in the program too so you can see what it does.
While there are many free programs available to help you analyze the small business SEO qualities of your site, very few rise up to the need for solid search engine research as does Traffic Travis.
In this Traffic Travis review, you'll learn not only why this is a great tool for any online marketer, but also how it can be used to compare your own website(s) to competitors in a very effective manner. Well, here goes ..
Small Business SEO Tool
The program provides much more than the typical keyword research tool. It actually goes more in depth to help you research niche markets and find out how top competitors rank on any niche keyword you find. You can use the Traffic
Travis along with Google Adword keyword tool to search for possible key phrases related to your niche product and then take the keyword research a step further with Traffic Travis.
Traffic Travis: Review of Free Features
The "Keyword Research" feature enables you to type in your most closely related keyword or phrase and get up to 2,000 other related terms and phrases.
You can get data from Google, Yahoo! and Bing to see how many total searches there are for a particular phrase. Save these keywords for further research and remove those that you don't plan to use.
You can also find out how well a site performs in the search engines for particular keywords using the "SEO Research" feature. Don't assume that your site is performing or not performing well for certain words. Use this tool to find out for sure. You can also type in competitor sites to find out how they fare with certain words.
Analysis Tools
Dig deeper with the EO Analysis" tool to see more detailed SEO reports. This feature reveals information such as back links, traffic ranking, page rank, top keywords, meta tags, page title, etc.
When you analyze a particular keyword or phrase with this feature, you'll also see how difficult it is to rank for that particular keyword, whether it's easy or difficult to get ranked in the top 10 or 20 results of the search engines.
With the "PPC Data" section Traffic Travis reviews a list of keywords for you and provides information such as how many ads are listed and the top sites for that keyword. You can know who is advertising for which keywords, and learn which phrases will actually make you money.
Another feature called "Page Analysis" gives you a search engine score based on analyzing the page for a particular keyword.
For instance, a dog training website might rank an "A" for the keyword "dog tips" but only a "C" for the phrase "dog obedience." If you have a low ranking on any particular page of your site, then you'll know that you need to take steps to improve on that page's SEO for the keyword being tested.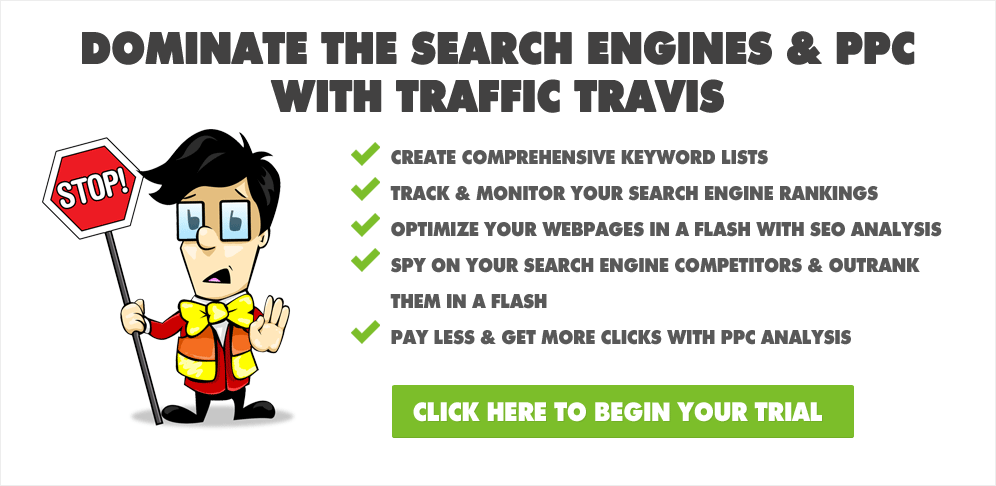 Assisting with Video
When you pull up Traffic Travis, review the videos that pop up for each tool/feature so you can learn how to use the program appropriately.
These videos are short and to the point to show you how to use every section of the program. In just a few moments you'll learn how to use all the tools to improve your website's SEO and find the best route of advertising.
This Traffic Travis review covers the basics of the traffic generation software program, so you can easily get started with the free version right away.
Don't hesitate to download this amazing small business SEO analysis tool so you can tweak your campaigns for success every time!
Try Out Traffic Travis Today & Spiral Your Search Engine Traffic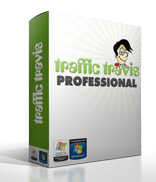 Don't run your small business site without it! These guys know what they are doing which is why I wrote the review.
As I write this review I am happily using Traffic Travis right now and it opened my eyes to mistakes I shouldn't be making in Internet marketing.
You shouldn't either. You might be leaving lots of dollars on the table without this software. That's why I highly recommend this tool.
Take Traffic Travis for a spin and see for yourself! Go to the official website now for details..